2019 Lexus AHL All-Star Classic is HERE in Springfield, MA This Weekend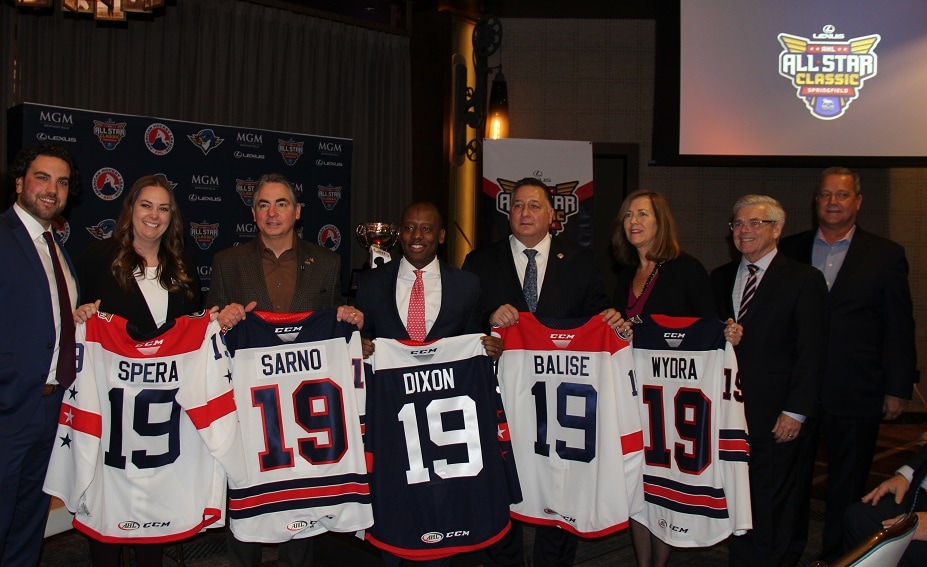 Springfield, Massachusetts will come alive this weekend when it hosts the 2019 Lexus AHL All-Star Classic on Sunday, January 27th and Monday, January 28th!
The two-day event presented by MGM Springfield (and sponsored by Lexus / Balise Lexus) will bring thousands of guests to our city for an event like we've never seen before. The showcase will take place at the MassMutual Center, home of our Springfield Thunderbirds, Not only will the city be welcoming guests and players from around the world, the 2019 AHL All-Star Skills Competition on Sunday (7 p.m. ET) and the 2019 AHL All-Star Challenge on Monday (7 p.m. ET) will be televised to national audiences on NHL Network in the United States and Sportsnet ONE and Sportsnet NOW across Canada.
The 2019 AHL All-Star Skills Competition on Sunday will feature All-Stars from the two Eastern Conference divisions against those from the two Western Conference divisions in seven skills events. The accuracy shooting, one of the most popular of the Skills Competition events, is sponsored by Lexus and Balise Lexus. In the 2019 AHL All-Star Challenge on Monday, the four teams will participate in a 3-on-3, round-robin tournament featuring six games of 10 minutes each. The two teams with the best records at the end of the round-robin will face off for the championship, a six-minute, 3-on-3 game.
On Monday, one lucky fan will be chosen and given a chance to shoot-to-win an all-new 2019 Lexus UX 200 compliments of Balise Lexus. The 2019 Lexus UX is the first-ever Lexus compact crossover and features best-in-class 17.1-foot turning radius and specially tuned suspension, class-leading standard active safety equipment in Lexus Safety System + 2.0, and Apple CarPlay and Amazon Alexa compatibility.
Hosting this event in Springfield is a huge deal for the city. Mayor Sarno, who you can see sitting in the stands at every home Springfield Thunderbirds game, is thrilled to welcome the world to Springfield.
"Thank you for your continued belief and investment in Springfield," the Mayor said in a kick-off press conference held at MGM Springfield on Friday, January 25th.
The American Hockey League (AHL) has been headquartered in Springfield, MA for over fifty years and Springfield was a charter member of the AHL. There is no better place for this event to be held in 2019, only a bit more than two years after the inauguration of the Springfield Thunderbirds, which has helped to revitalize the city.
Balise, also in a milestone year in 2019 as it celebrates its 100-year anniversary, is proud to be a part of this event.
"2019 represents 100 years of Balise in Springfield, and we believe our success begins on the pillar of a community-first philosophy. We look forward to the next 100 years of supporting community organizations and events like this that enhance and improve the lives of those in the place we call home," said Tim Cardillo, General Manager of Balise Lexus on behalf of both Lexus and Balise.
We want to thank the American Hockey League, Springfield Thunderbirds, MGM Springfield, and the entire city of Springfield for allowing us to be a part of this event.
Source: Balise Blog