$38,200 Raised for Hasbro Children's Hospital during Balise Subaru's 2016 Share the Love Campaign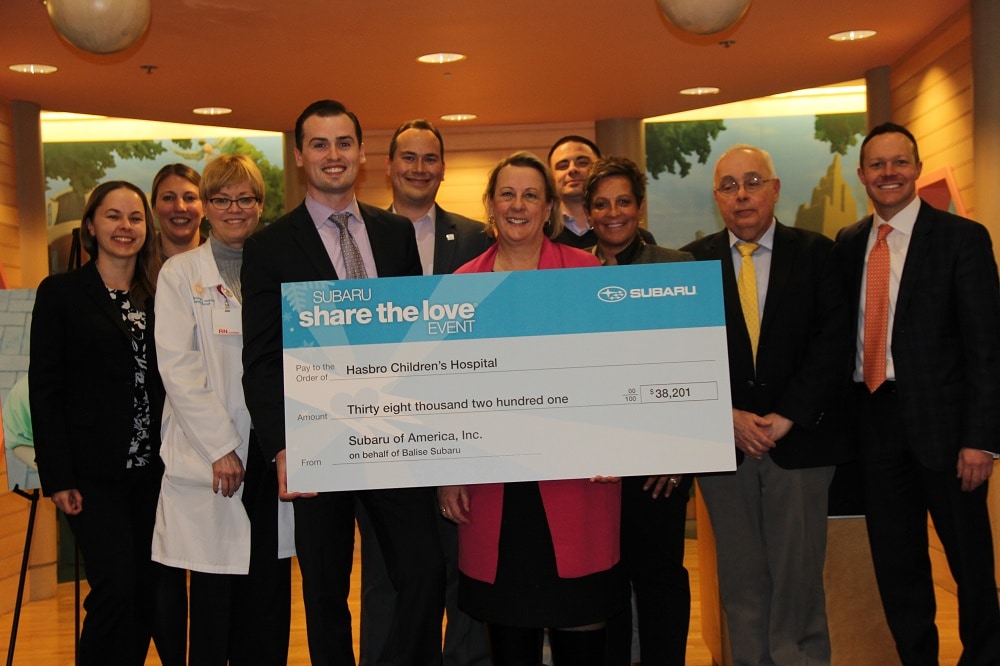 Each year, Subaru's Share the Love campaign kicks off in November and for every vehicle purchased or leased during the six-week span, Subaru donates $250 to the purchaser's choice of participating charities—ASPCA®, Make-A-Wish®, Meals on Wheels America®, the National Park Foundation, and a local charity of the dealership's choosing.
For the second consecutive campaign, Balise Subaru selected Hasbro Children's Hospital as the local beneficiary. During the 2015 campaign, our Subaru dealership raised an impressive $30,839 for the hospital. This year, we are thrilled to report a 23% increase in donated funds for a total of $38,201 raised.
On March 27th, the Balise Motor Sales and Balise Subaru team were welcomed by Hasbro Children's Hospital representatives for a check presentation and hospital tour—giving our Balise team a chance to see first-hand where and who the donated funds will benefit.
"Many people don't know this, but it wasn't until about 10 years ago that the Balise group expanded into Rhode Island," Bill Peffer, President & COO of Balise Motor Sales said in his remarks. "Ever since, we've committed ourselves to building lasting relationships with the local community and our Subaru store is one of the best examples of that through their partnership with Hasbro Children's Hospital."
Hasbro Children Hospital has the only pediatric emergency department, Level 1 Trauma Center, pediatric critical care teams, and 24-hour ambulance in the region, but also provides services dedicated to making a sometimes long-term hospital stay easier for family members of patients. To read the hospital's full release, click here.
Balise Subaru and the entire Balise family is thrilled to make another sizable donation Hasbro Children's Hospital and hope for a continued partnership with them for years to come.
Source: Balise Blog