Balise Hyundai Presents Hyundai Impact Award to Baystate Hospital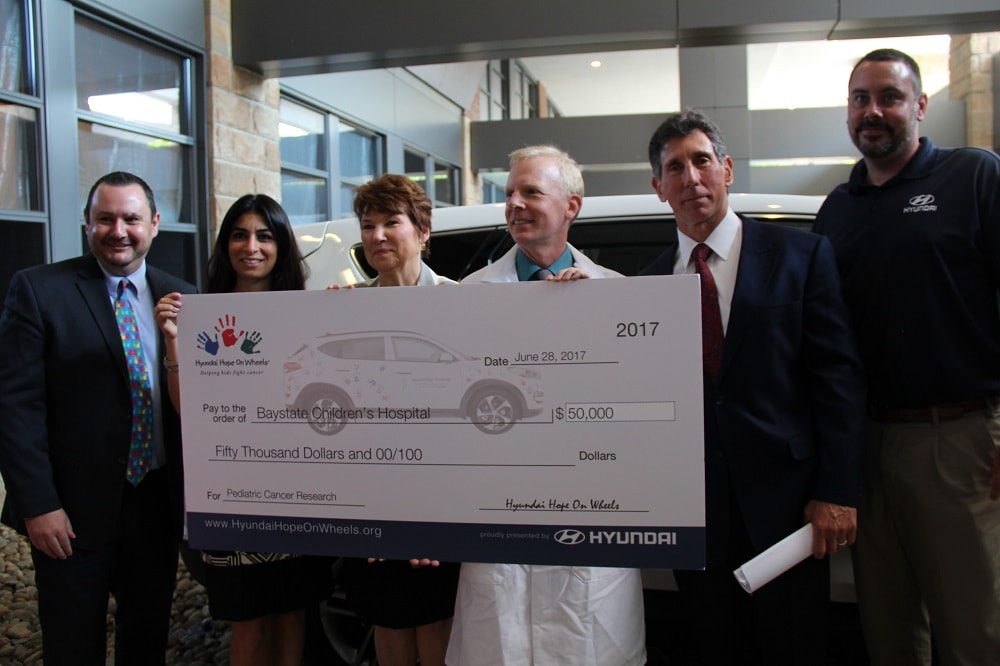 On Wednesday, June 28th, Balise Hyundai and Hyundai representatives from the greater-Springfield area gathered at Baystate Medical Center for the presentation of the Hyundai Hope on Wheels Impact Grant which will directly support the Hospital's current project of expanding the 15-year old Pediatric Procedures Unit and relocating the Sadowsky Center for Children. The $6.5 Million project—the future of Baystate Children's Hospital—will be nearly 50% funded by community support.
"Our partnership with Hyundai is extremely important to our work and we are so grateful for the opportunity to celebrate this grant recognition with you all here today," said Kathy Tobin, Interim Leader of Philanthropy for Baystate Health Foundation.
Balise representatives on hand for the ceremony were Jeb Balise, CEO of Balise Motor Sales; Brian Houser, General Manager of Balise Hyundai in Springfield, MA; Alex Balise McEwen, Marketing Manager; and additional members of the Marketing Team.
Houser, a father to two young daughters, holds the Hyundai Hope on Wheels initiative close to his heart and through the dealership, has met and connected with many parents who will benefit from this Impact Grant. Hyundai Hope on Wheels, which begin with one Boston-area dealer, has since expanded to include more than 800 dealers nationwide.
"Our commitment to the fight against pediatric cancer is not about selling cars or promoting our business," said Houser during his speech. "This is truly at the core of who we are and what we do to try and make the world a better place. There is nothing more important to us."
Baystate Health is one of 25 hospitals this year receiving the Hyundai Impact Award.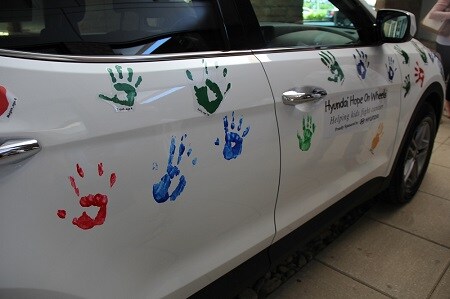 "There's not a children's hospital in the country who can do what they do without the community and philanthropy…so thank you for this support," said Charlotte Boney, Chair of Pediatrics at Baystate Health.
Following the ceremonial speeches was the signature Handprint Ceremony, where several children and teens who were once treated at Baystate Children's Hospital added their handprints to our Hope Vehicle, joining the prints of hundreds of other children who are fighting cancer.
Balise is honored to support Baystate Health in their efforts to end pediatric cancer and look forward to seeing the completed renovations of the Pediatric Unit as well as the relocation of the Sadowsky Center. Thank you to Hyundai and Baystate for allowing us to be a part of such a meaningful and inspiration campaign.
Source: Balise Blog