Balise Subaru Ready to Share Even More Love With Hasbro Children's Hospital
For the third consecutive year, Balise Subaru will partner with Hasbro Children's Hospital in Providence, Rhode Island for the annual Subaru Share the Love Event. For every new Subaru purchased or leased between campaign dates of November 16, 2017 and January 2, 2018, Subaru of America will donate $250 to the purchaser's choice of charities.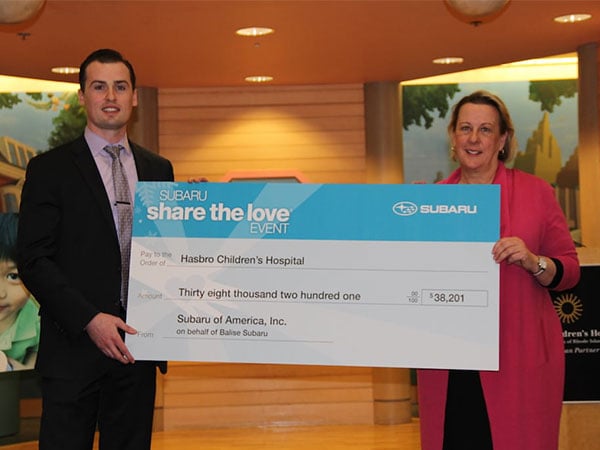 ?
Since 2008, Share the Love has donated more than $94 million to charity—including over 660 local charities like Balise beneficiary, Hasbro Children's Hospital.
Over the course of the Share the Love partnership, Balise Subaru has raised nearly $70,000 for Hasbro Children's Hospital. These funds have been critical to supporting patient care, maintaining medical equipment and expanding research opportunities.
Our Balise team is thankful for the support of our Subaru customers in supporting the local hospital.
"In addition to the incredible ways a gift of this size can advance hospital goals, I'm most amazed with the way this campaign brings our community together," said Noah Cahillane, General Manager of Balise Subaru. "We love our hometown and our state, and giving back is always a priority for us. To see our customers joining us in this endeavor—year after year—it is quite special."
Hasbro Children Hospital has the only pediatric emergency department, Level 1 Trauma Center, pediatric critical care teams, and 24-hour ambulance in the region, but also provides services dedicated to making a sometimes long-term hospital stay easier for family members of patients.
In the last year, the Balise organization has also supported other hospital services such as The Tomorrow Fund and the hospital's Partial Hospital Program through a variety of fundraising efforts—including hosting Billy Gilman at Balise Toyota last January.
We hope the 2017 Share the Love event will bring even more funds and additional awareness to the great work of Hasbro Children's Hospital.
Source: Balise Blog