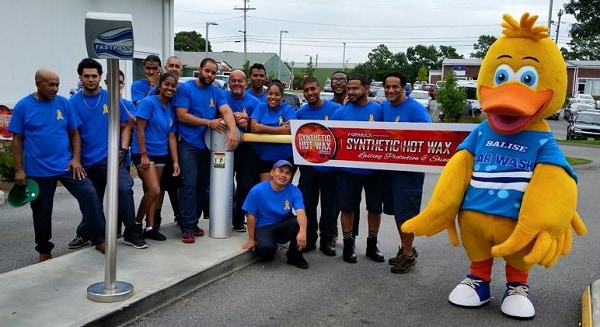 This Labor Day weekend, Balise Hyannis Car Wash ran a special event to celebrate Childhood Cancer Awareness month—$5 Hot Wax with all proceeds benefiting the Visiting Nurses Association of Cape Cod's (VNA) Pediatric Hospice and Palliative Care program. The program is designed to provide additional care to children with cancer on Cape Cod and the Islands as well as provide their families with support.
So many excited supporters came out for the cause including our never-before-seen Balise Car Wash mascot, Squeaky! Handing out goodies and giving out hugs, Squeaky made his way around the property all weekend to rally donations for childhood cancer.
With Squeaky's help, the three-day event raised $1,510 for the VNA Pediatric Hospice and Palliative Care program. He had a blast running around and meeting you all whilst benefiting children with cancer across Cape Cod and the Islands. To see photos from the day, visit the Balise Hyannis Car Wash Facebook page.
If you didn't get a chance to meet Squeaky this weekend, don't worry! Stay tuned for more info on our newest feathery friend—we can't wait to tell you all about him—and more info on where he'll be next!
For up to date news and announcements from our Content Specialist, Alexa, visit The Balise Blog!