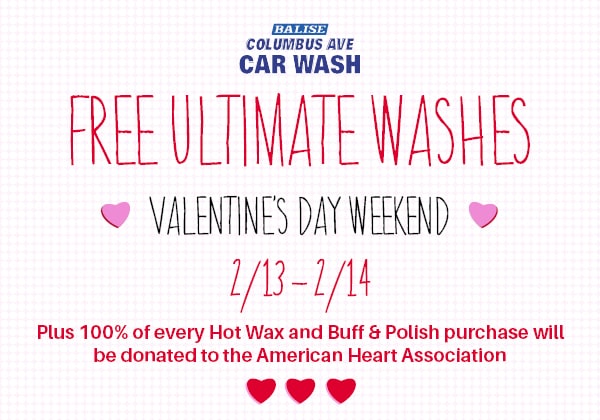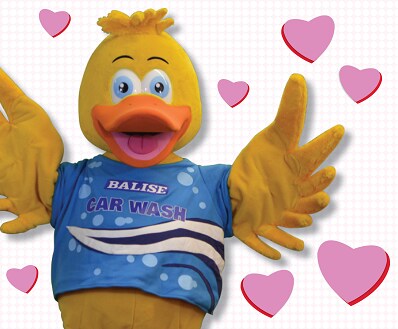 Can you think of anything more romantic than taking your significant other to get a car wash on Valentine's Day? Okay, so I'm sure you can—but that doesn't mean you shouldn't take advantage of a FREE Ultimate Wash offer at Balise Columbus Ave Car Wash! On the way to your candlelit dinner reservations, stop by and see us.

Our new state-of-the-art car wash in Springfield, MA will be offering free washes to guests ALL DAY on Saturday, February 13th and Sunday, February 14th! However, the fun doesn't stop there. We'll be donating all proceeds from $5 Synthetic Hot Wax and Buff & Polish purchases to the American Heart Association—our way of celebrating American Heart Month and fighting heart disease.
As many of you know, heart disease carries with it some alarming statistics in the United States. Not only is heart disease the leading cause of death for men and women nationwide—1 in 4 deaths each year come as a result of heart disease. At Balise, we want to help change those statistics in whatever way we can. The American Heart Association is the oldest and largest voluntary organization in the United States dedicated to bringing awareness to communities across the U.S. to fight the deadly disease.
Balise Hyannis Car Wash in Hyannis, MA will also be supporting the American Heart Association for Valentine's Day weekend! At our Balise Car Wash on Cape Cod, Balise will also donate $5 to the American Heart Association for every Synthetic Hot Wax purchased.

We want you to spread the love this Valentine's Day—beginning with loving your car.