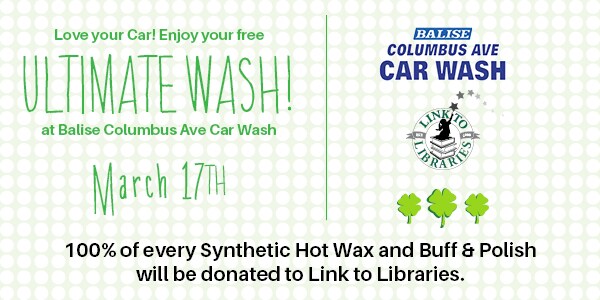 Everyone gets lucky at Balise Columbus Ave Car Wash this Saint Patrick's Day!
Our all-new car wash in Springfield, MA will be supporting another worthy organization this March—this time, an organization right in our own backyard. Link to Libraries is a local non-profit organization who dedicates their time to collecting and distributing new and gently used books to elementary school libraries and non-profit organizations.
On Thursday, March 17, 2016, Balise Columbus Ave Car Wash will be giving out FREE Ultimate Washes all day and donating 100% of proceeds from Synthetic Hot Wax and Buff & Polish to Link to Libraries. Balise hopes to play a role in the improvement of language and literacy skills of children in our local neighborhoods.
The month of March is known for its national reading celebrations.
Earlier this month, schools nationwide celebrated the birth of Springfield-born author, Theodor Seuss Geisel, better known as Dr. Seuss. His birthday marked the beginning of National Education Association's Read Across America Day (or Dr. Seuss Day). The campaign is designed to encourage children and teens to read.
"We take pride in supporting local non-profit organizations," said Tony Debarros, General Manager of Balise Car Washes and Detail Centers, "Knowing the strong relationship our company has already built with Link to Libraries and the benefit our partnership could have on local children, it was a perfect fit."
Although this will be the first time Balise Columbus Ave Car Wash has partnered with Link to Libraries, Balise Motor Sales has a history with the organization.
In 2013, the late Mike Balise began volunteering with the Link to Libraries program as a celebrity reader. The partnership developed through relationships at both the Kensington School and Homer Street School in Springfield, MA.
Just weeks before his passing in December 2015, Mr. Balise donated $2,000 to purchase more than 250 brand new coats for the children for five consecutive years.
In the months since, Homer Street School proposed dedicating their library to him and the Link to Libraries program.
"Link to Libraries is honored by the support of Balise Auto Group," said Susan Jaye-Kaplan, Co-Founder, Link to Libraries. "It is with collaboration and partnership with this company and others in our community that we are able to donate over 79,000 new books this year to area under served youth in our Western MA communities. We are thankful for the Balise support and team Balise staff who read in our programs."
Over the years, the Link to Libraries program and the children it supports have made a large impact on the entire Balise community. Balise is thrilled to honor Mike's legacy by continuing to support Link to Libraries through fundraising efforts at the newest Balise Car Wash location. Come down on March 17th, get your FREE wash, and donate to a worthy cause!