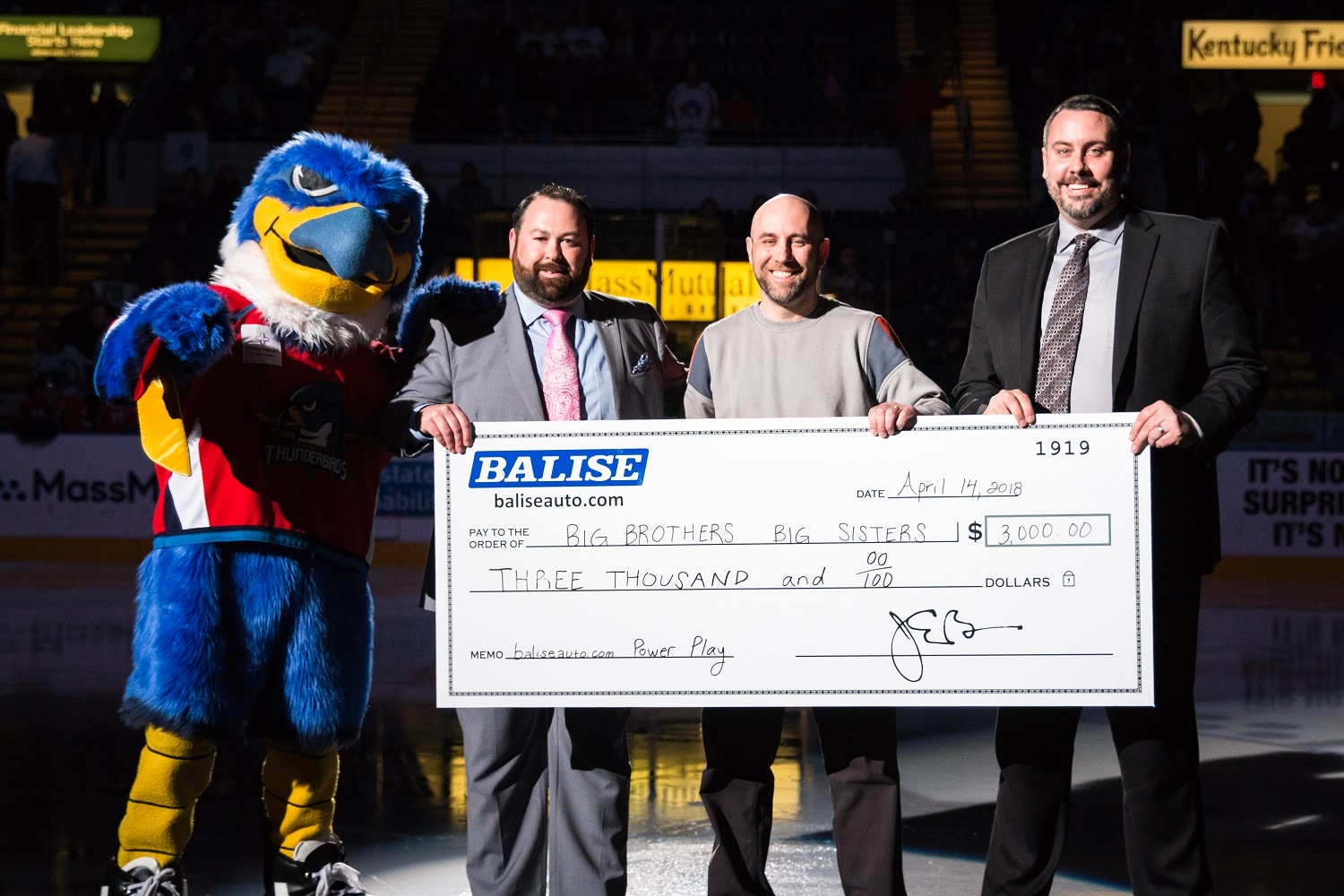 For almost as long as there's been hockey in Springfield, whether it be the Falcons or the Thunderbirds, there's been the
Balise Auto Power Play
. It's something fans have come to know and love. A
Balise Auto Power Play gives our
Springfield Thunderbirds
a man advantage, and there is nothing that gets the fans excited like a Balise Auto Power Play goal.
This year, we thought we'd use our man advantage to give someone else in our community an advantage. For each Springfield Thunderbirds goal scored on the Balise Auto Power Play (a power play goal scored on home ice at the Mass Mutual Center), Balise Motor Sales donated $100 to
Big Brothers Big Sisters of Hampden County
-- an organization dedicated to the mentoring and development of youth in our local communities. And the hard work of our Thunderbirds paid off! They scored 30 regular season power play goals at home, totaling a $3,000 donation to BBBS Hampden County.
A check presentation was held on Saturday, April 14th during Fan Appreciation Weekend to commemorate the fundraising effort. Before the game, Brian Houser, General Manager of
Balise Hyundai
in Springfield, along with Chris Thompson of the Springfield Thunderbirds, presented a giant check to David Beturne, Executive Director of Big Brothers Big Sisters of Hampden County.
"We are extremely grateful to Balise Auto for supporting Big Brothers Big Sisters of Hampden County. This generous donation from Balise will go a long way in helping us provide a Big Brother or Big Sister volunteer to more children who need and want one," said Beturne. "Thank you for being such a great neighbor and for investing in our community's future."
The Thunderbirds finished up their 2017-2018 season with a record of 32-36-5-2 and spent their last game of the season surrounded by 6,793 fans for the team's ninth sellout at the MassMutual Center this season. Next year, Springfield will host the 2019 AHL All-Star events, marking another great accomplishment for the team in their second year.