Nearly $100,000 Raised for Hasbro Children's Hospital during Balise Subaru "Share the Love" Event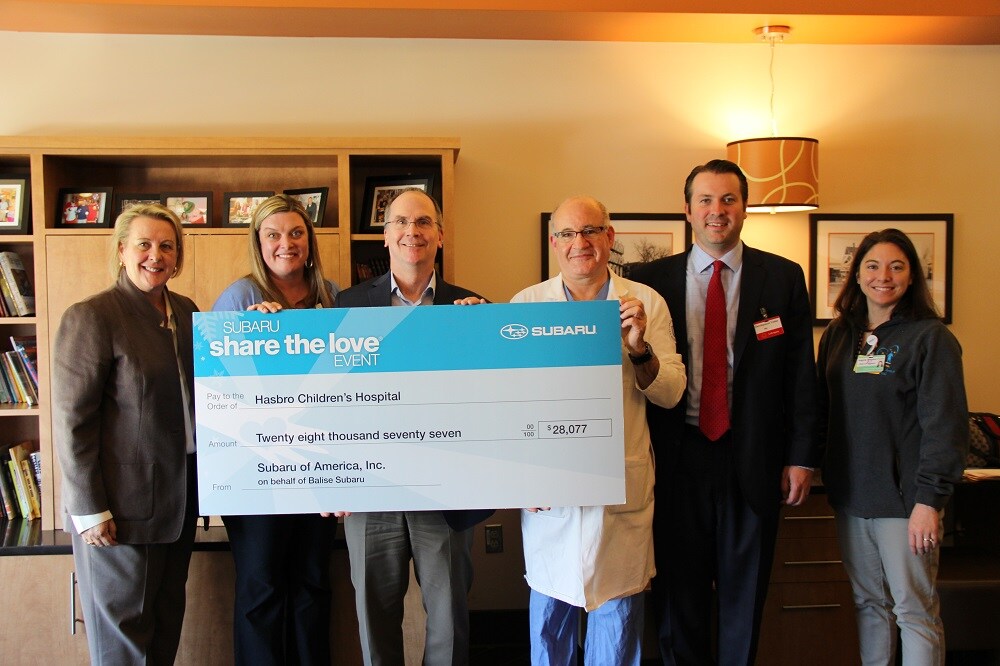 Dating back to 2015, Balise Subaru has selected Hasbro Children's Hospital in Providence, RI as their local beneficiary for the Subaru "Share the Love" campaign – and after three years, has raised nearly $100,000 on behalf of the local hospital. During the national campaign, Subaru of American donates $250 for every Subaru purchased or leased to the charity of the customer's choice.
Over the course of the 2017 "Share the Love" campaign, $28,076 was raised for the Hospital. Reaching such a fundraising goal as this wouldn't be possible without our amazing Balise customers who have shown an amazing passion to fund their local community organizations.
"Subaru's 'Share the Love' campaign is one of our favorite times of the year as it allows our team at Balise Subaru to use their skills selling vehicles to support the local community," said Jeb Balise, Owner and CEO of Balise Motor Sales. "The more cars we sell, the more money we raise, and we are grateful to our customers for rallying with us on behalf of Hasbro Children's Hospital for a third consecutive year."
The funds will aid in funding patient care, medical equipment, and future research.
"We could not be more grateful to Balise Subaru for once again choosing our hospital as their local beneficiary, and for their customers' response to supporting our work," said Margaret M. Van Bree, MHA, DrPH, president of Rhode Island Hospital and Hasbro Children's Hospital. "So much of the care we provide is made possible thanks to philanthropy and a community that cares deeply for children; this gift will have a direct impact on our patients and their families."
In addition to the annual "Share the Love" campaign, Balise has also donated other funds and supplies to a variety of departments and programs within the hospital such as The Tomorrow Fund and the Palliative Care Program. With each donation, Balise strives to continue the lasting partnership we've forged with Hasbro Children's Hospital and enrich the lives of each patient and their families.
Source: Balise Blog