Patients Cruise to Operating Room in Style Thanks to Donation from Balise Auto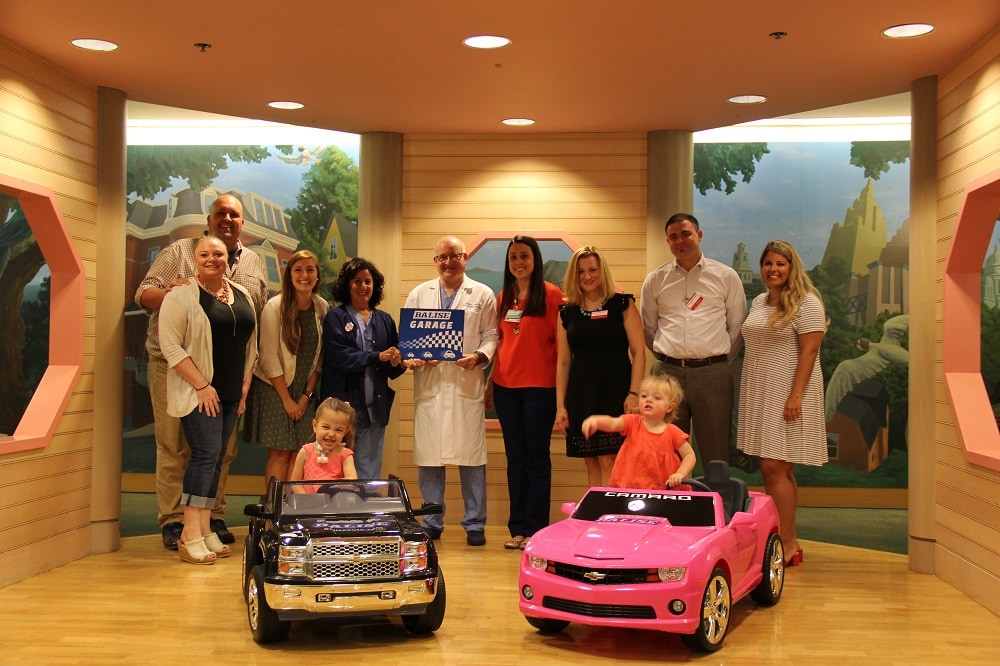 Nothing is more important to the Balise group than supporting our local communities and furthering the relationships we have created over the years. In Rhode Island, one of our most cherished relationships is the one we have with Hasbro Children's Hospital. So when our Balise team heard there was an opportunity to enhance the experience for patients in a tangible way, we jumped at it.
For more than 20 years, Hasbro Children's has offered ride-on vehicles for patients, including a ride-on tractor and an SUV, to cruise to the operating room in style. However, the hospital's current offerings were growing older and could use a refresh. In fact, it was brought to our attention that in addition to a refresh, there was also a high-volume request from patients for a pink vehicle.
On Wednesday, June 27th, Balise made those dreams a reality, delivering a beautiful pink Chevrolet Camaro to the Hospital. In addition, Balise we threw in a matching black Chevrolet Silverado to be parked at our newly created "Balise Garage". Upon delivery, they were an instant hit with the kids.
"We know that no matter the procedure, kids and their families are usually nervous before surgery, which makes it wonderful to see them smiling as they drive down the hallway," said Francois I. Luks, MD, PhD, Hasbro Children's Hospital's pediatric surgeon- in-chief. "We've had a number of patients ask for a pink car to use, and we didn't have one until now. That Balise went the extra mile to gift us cars that will appeal to all children underscores their commitment to our hospital and to our patients. We are grateful for their support."
The new Camaro and Silverado will be parked in the hospital's pre- and post-anesthesia care units, giving patients a total of four vehicles to choose from.
"It's important to us that our partnership continues to enhance the experience of the patients and families who rely on Hasbro Children's Hospital for their care," said Balise Motor Sales owner and CEO, Jeb Balise. "Knowing these ride-on vehicles will provide joy during an otherwise stressful time means the world to us."
We look forward to many future opportunities to support the growing needs of Hasbro Children's Hospital and are honored to have been a part of such a special occasion. To read the full press release, click here.
Source: Balise Blog