Springfield Thunderbirds Players Visit Balise Hyundai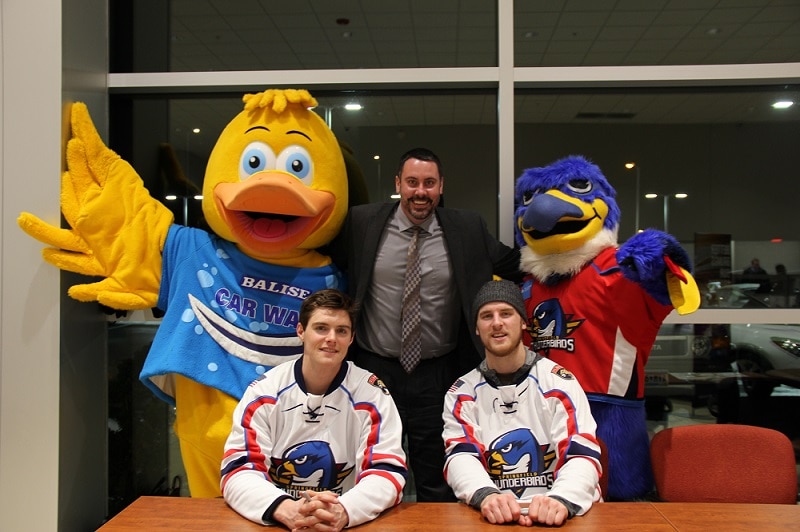 On Wednesday, February 15th, two popular Springfield Thunderbirds, Eric Robinson and Ed Wittchow, stopped by Balise Hyundai to meet fans, take photos and sign autographs. The guys are heading into a home and home weekend where they will host Utica and Wilkes-Barre before traveling to Hartford to take on the Wolfpack on Sunday.
Fans young and old were thrilled to spend time with a couple of their favorite players in the intimate venue of the Hyundai dealership downtown. Among the fans were brothers, Jacoby and Eric, who along with their father have attended every home Thunderbirds game except for one this season–including preseason. Dedication like this is a prime example of why it's such a great thing to have professional hockey return to Springfield.
"I think I speak for all of us when I say it's great to have the Thunderbirds here in Springfield," says Brian Houser, General Manager of Balise Hyundai. "Being able to host an event like where the fans can meet the players in such a personal setting is something we're always going to be excited for."
Last month, the Balise group hosted Balise Car Wash night at the Springfield Thunderbirds game where fans were given free car washes, interior details and unlimited monthly wash plans. Mascot Squeaky Balise was also present for the night, playing musical chairs on the ice with his good friend, Thunderbirds mascot, Boomer.
Stay tuned for more Balise and Thunderbirds events in the near future!
Source: Balise Blog