Balise in the Community
It is our philosophy that by supporting civic events and community services, we help make our communities nicer places in which to live and do business.
---
United Way of Pioneer Valley Opens New Community Center with Help from Balise Auto
---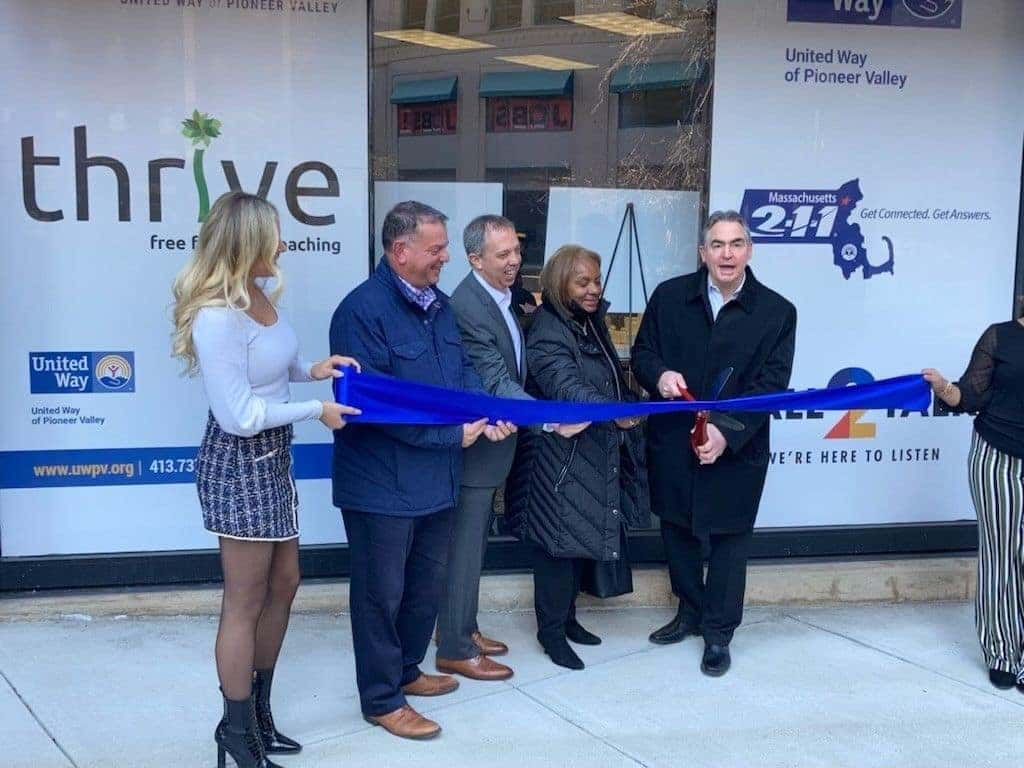 February 2022
Springfield, MA – On February 11th, 2022, United Way of Pioneer Valley celebrated the grand opening of their new Springfield Community Center. The move was sponsored in part by Balise Auto Group. Read More.
---
Balise Toyota of Warwick Donates to Big Brothers Big Sisters of Rhode Island
---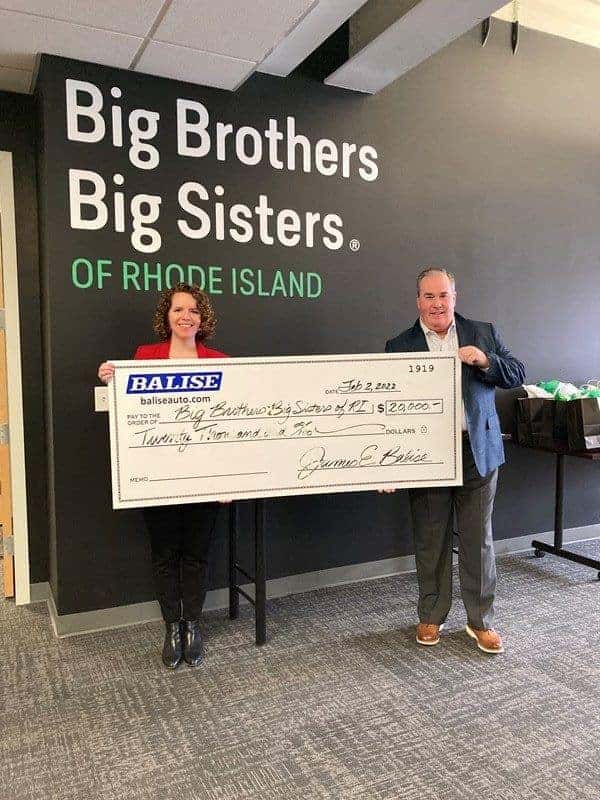 February 2022
Warwick, RI – Balise Toyota of Warwick has made a $10,000 donation to Big Brothers Big Sisters of Rhode Island, an amount that was matched by the Toyota Dealer Match Program for a total gift of $20,000. Read More.
---
Balise Auto Donates to the Boys & Girls Club of West Springfield
---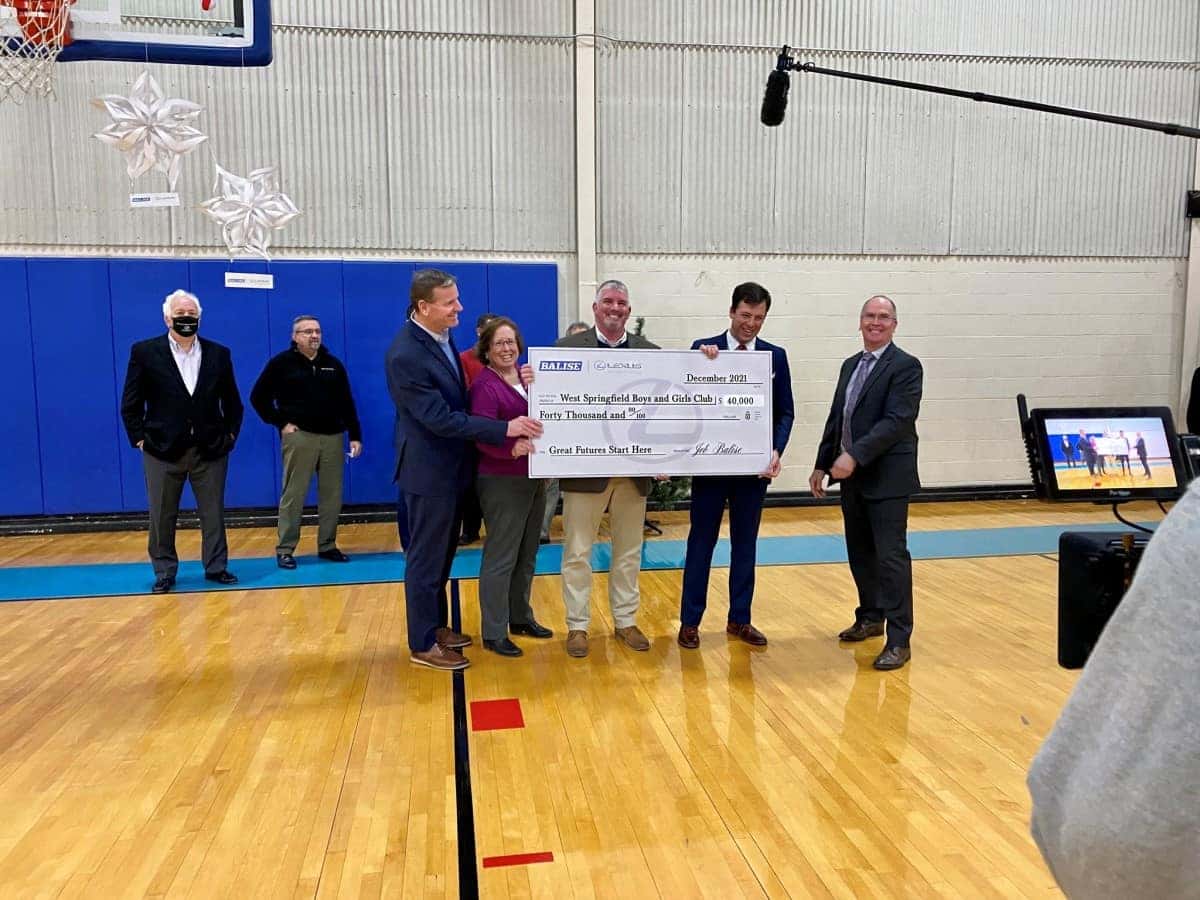 December 2021
West Springfield, MA – In partnership with Lexus, Balise Auto presented a $40,000 check to the Boys and Girls Club of West Springfield to support the work and mission of the local organization. Read More.
---
Balise Auto Sponsors Little League Scoreboard at Founders Field
---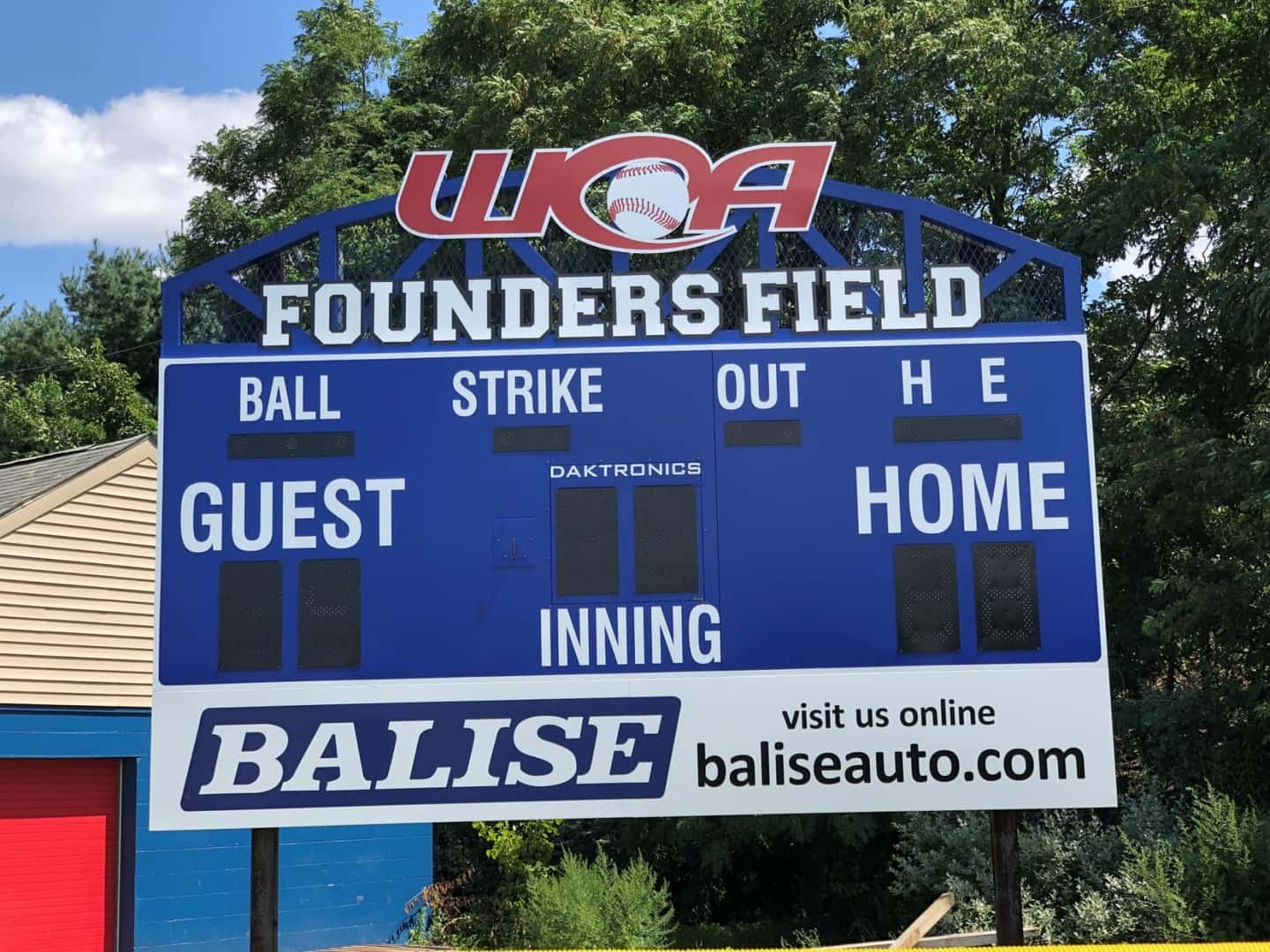 August 2021
WARWICK, RI – Balise Auto is the new scoreboard sponsor for the Warwick Continental Little League at Founders Field in Warwick, RI. We are proud to support local youth sports, which is one of our main focus areas for charitable giving.
---
Balise Subaru Selects Hasbro Children's Hospital
---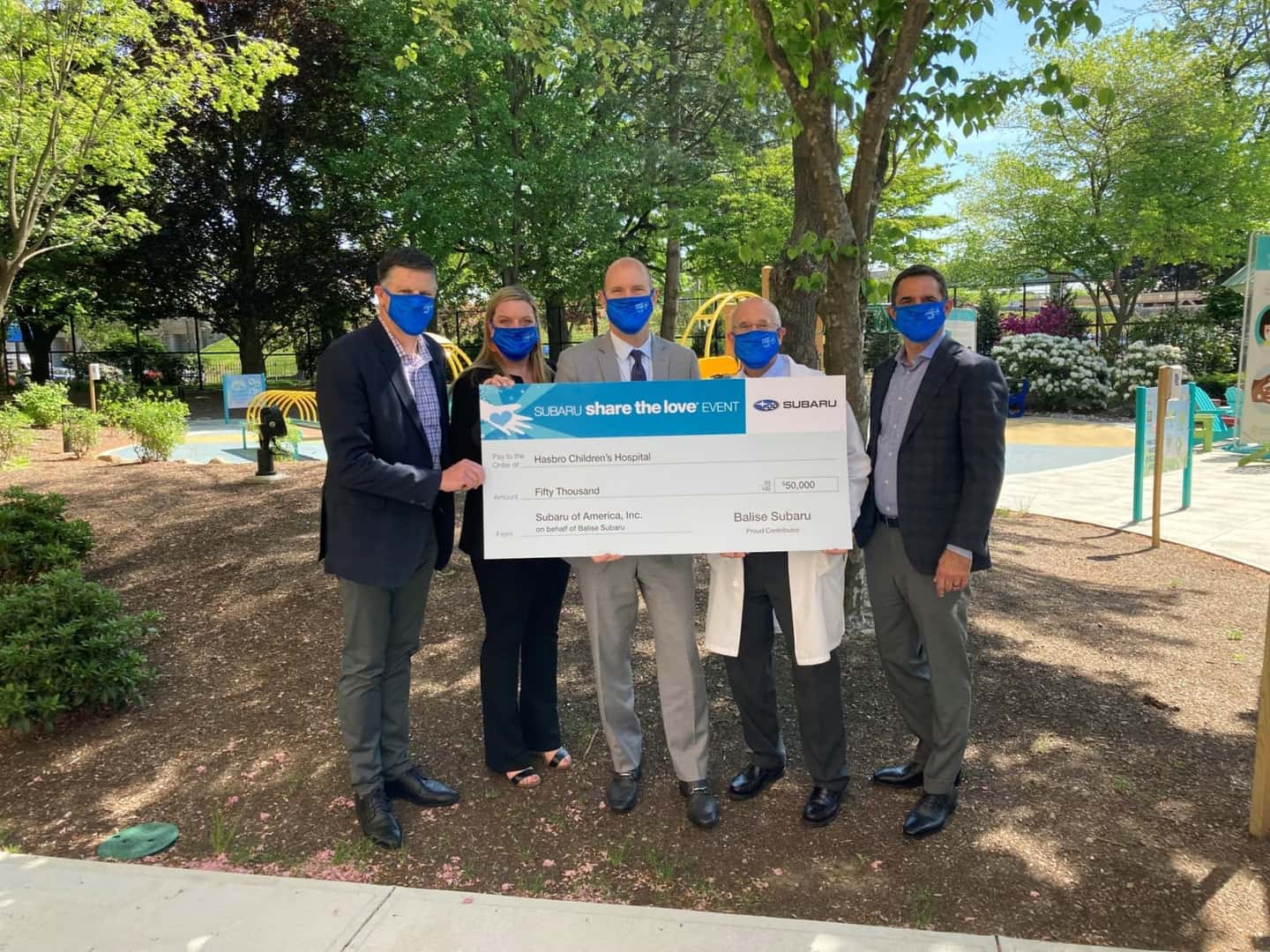 May 2021
PROVIDENCE, RI – Balise Subaru selected Hasbro Children's Hospital as the hometown charity for Subaru of America, Inc.'s Share the Love event. Thank you to Subaru and all of our customers for helping us raise $50,000 for our local hospital!
---
Alignments Against Hunger
---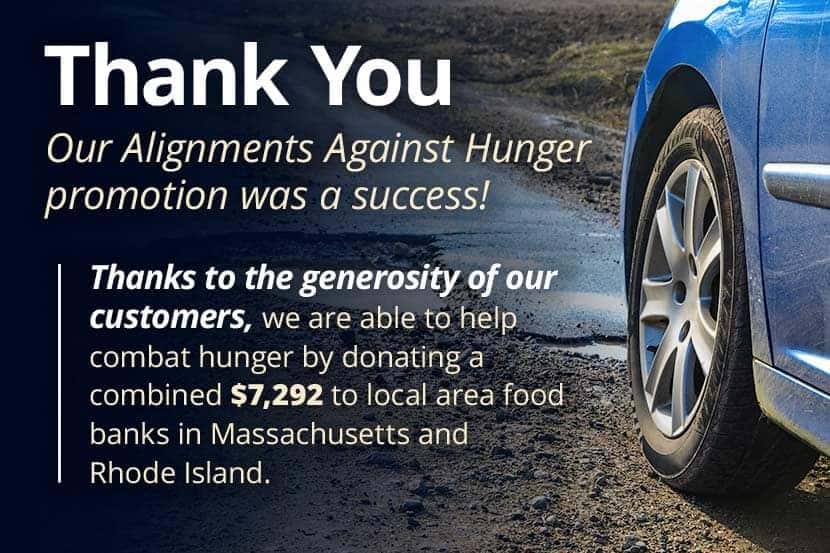 March-April 2021
MASSACHUSETTS AND RHODE ISLAND – Our Alignments Against Hunger promotion was a huge success! Thanks to our customers, we are able to donate $7,292 to local area food banks in Massachusetts and Rhode Island.
---
Balise Ford Partners with Other Local Automotive Businesses to Help Local Charity
---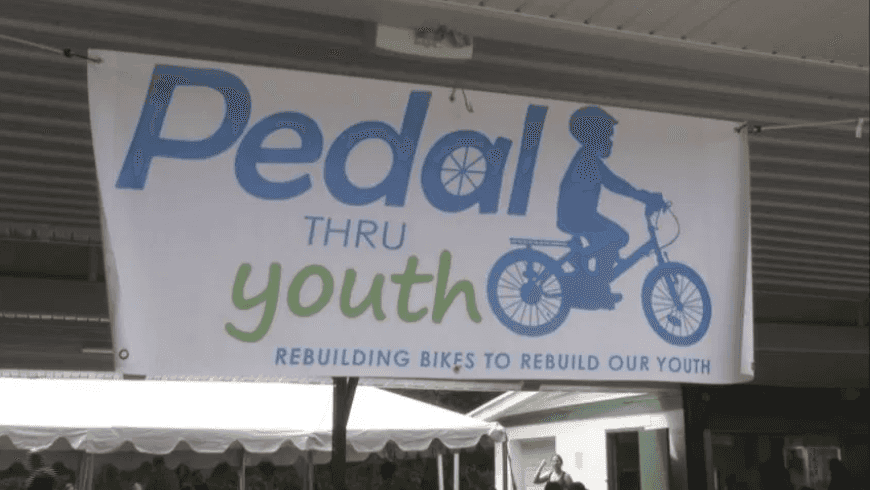 February 2021
SPRINGFIELD, MA – Balise Ford teamed up with other automotive businesses to help fix Bob "the Bike Man" Charland's truck, which is out of service due to a blown engine. Bob Charland runs Pedal Thru Youth, a local nonprofit created to help provide bicycles and helmets to kids.
---
Balise Partners with Clarke School
---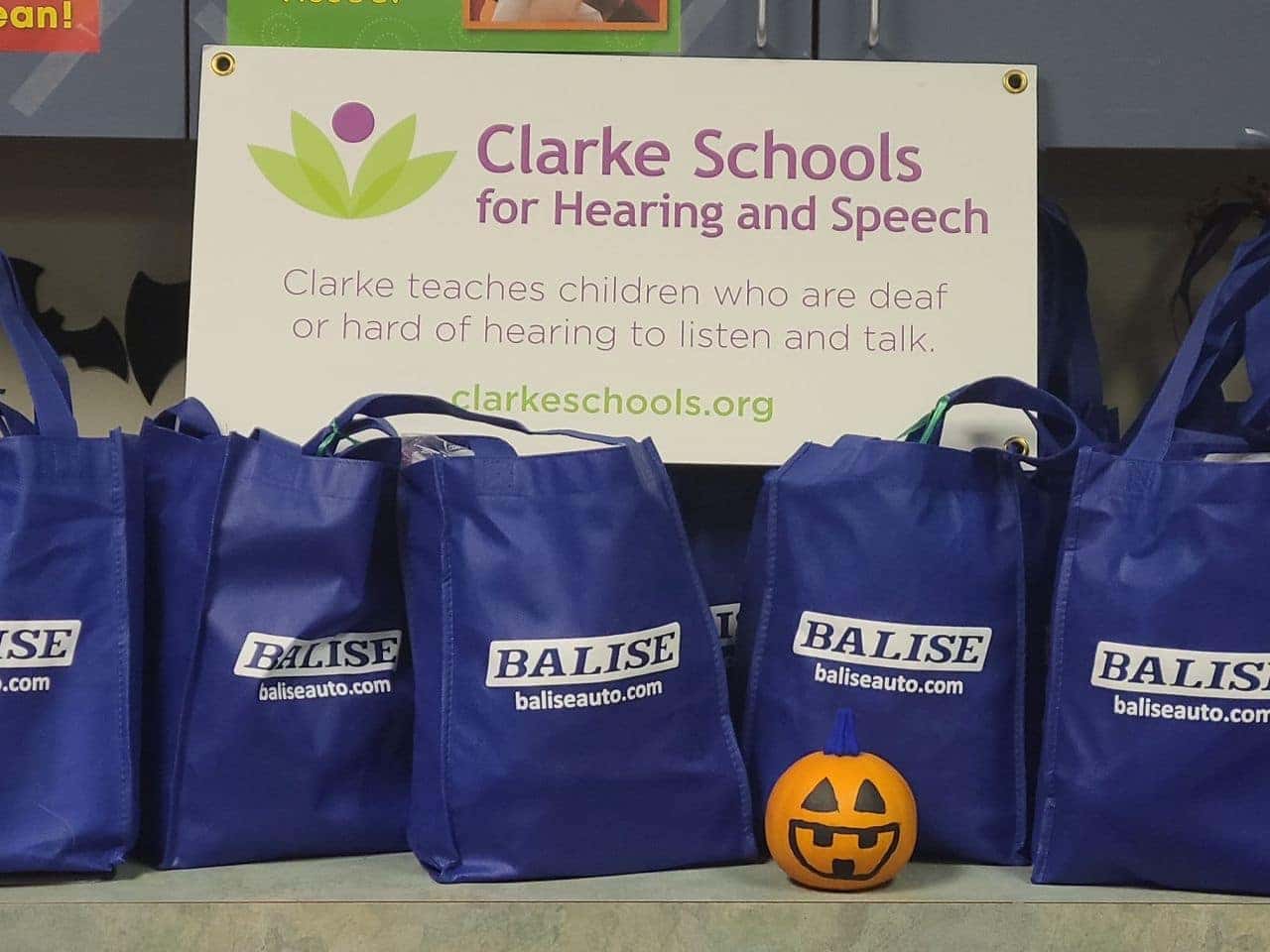 November 2020
NORTHAMPTON, MA – Balise Motor Sales partnered up with the Clarke School for Hearing and Speech to give their wonderful students a fun and exciting Halloween!
---
Balise Auto and Balise Subaru Partner with Hasbro Children's Hospital
---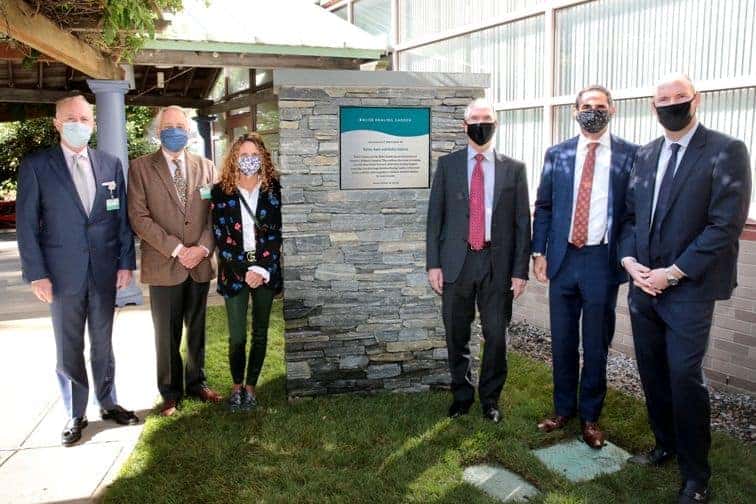 November 2020
PROVIDENCE, RI – Hasbro Children's Hospital recently completed its ongoing renovations of the new Balise Healing Garden and a completely reimagined playground.
Balise Auto and Balise Subaru are proud to partner with Hasbro Children's Hospital in the creation of the Balise Healing Garden. It is our hope that this peaceful space brings comfort and healing to children for years to come.
---
Balise Continues Tradition of Mentoring
---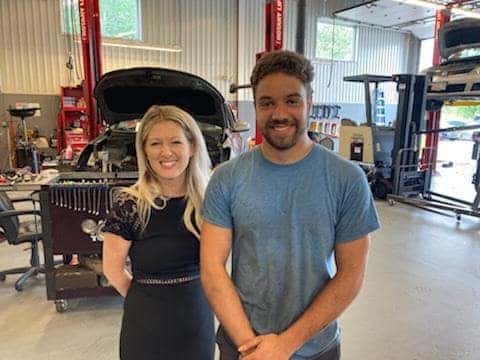 November 2020
HYANNIS, MA – We are proud to introduce our newest service technician, Tyler! He joins Balise Hyundai of Cape Cod from the Upper Cape Technical School, where we have a mentoring program. For the full story, click here.
---
Balise Car Wash Donates Over 40,000 Washes to Medical Caregivers and First Responders
---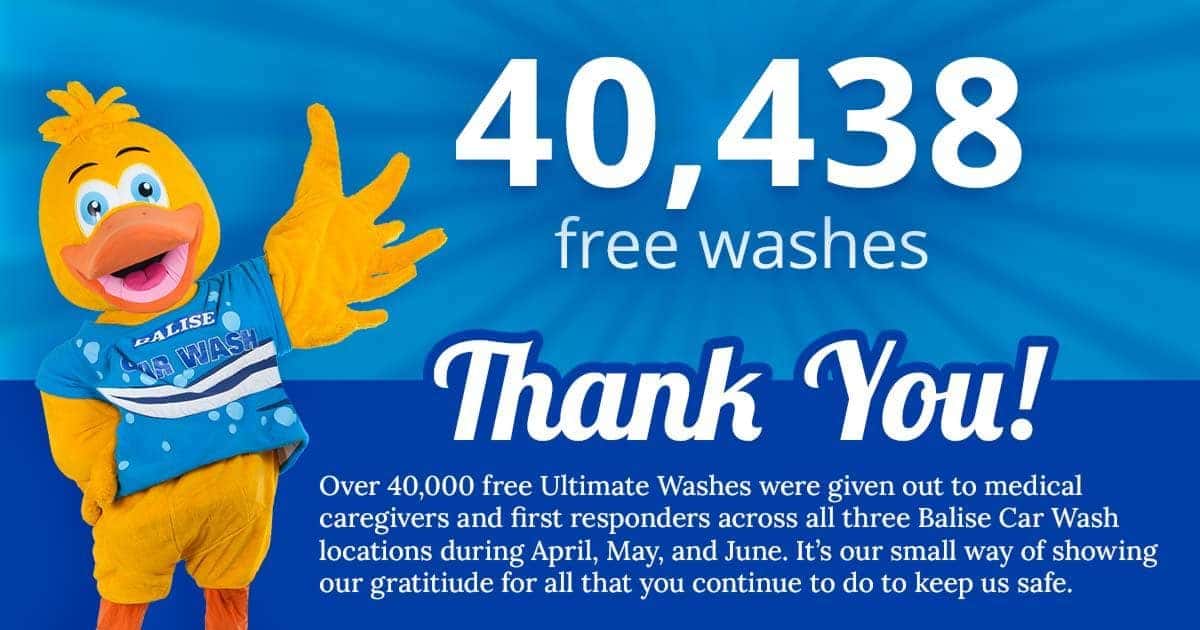 June 2020
SPRINGFIELD, WEST SPRINGFIELD, AND HYANNIS, MA – We are proud to announce that 40,438 free washes were given to medical caregivers and first responders across all three Balise Car Wash locations. It's our small way of showing gratitude for all that you continue to do to keep our community safe throughout the COVID-19 pandemic.
---
Balise Corporate Office Celebrates Fur-bruary with Supply Donation to Local Shelter
---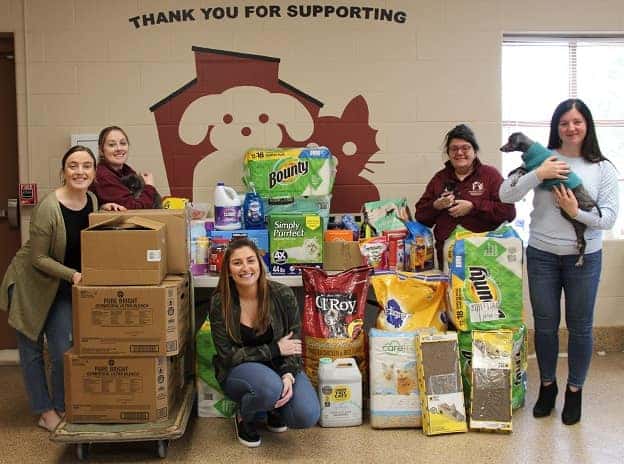 March 2020
SPRINGFIELD, MA – One of our favorite things to do at the Balise corporate office is collect items for local organizations. For the second consecutive year, Balise spent Fur-bruary collecting essential supplies like bleach, paper towel, soap, and other cleaning supplies (and some food, treats, and litter as well!) for Thomas J. O'Connor Animal Shelter in Springfield, MA. There are so many animals looking for a family and local shelters need a lot of help to make sure they give a loving home to these animals while they await their forever homes. We are always thrilled to help supply them with what they need!
---
Balise Lexus Donates 489 Books to Fausey Elementary School through Lexus Book Drive Initiative
---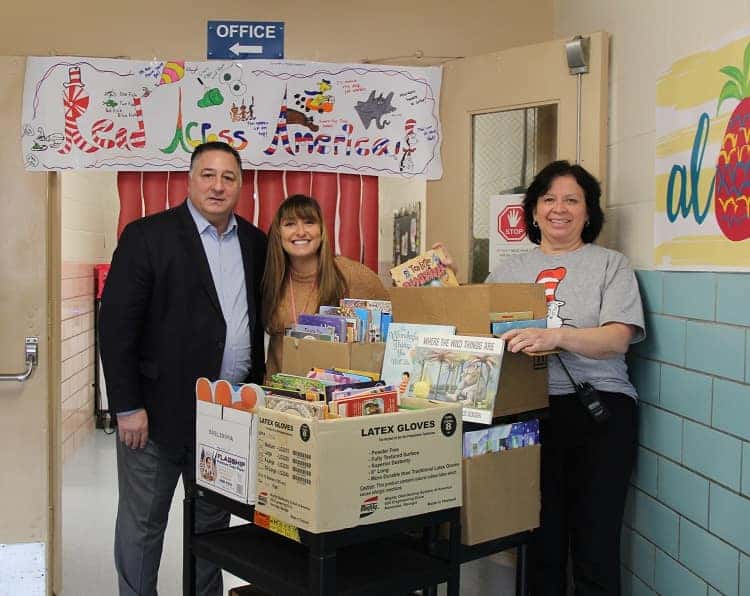 March 2020
WEST SPRINGFIELD, MA – During the last few weeks of February, Balise Lexus collected new and gently used books for children ages 0-7 as a part of the Lexus Book Drive & Read Across America. The book were delivered on March 2nd, Read Across America Day, to Fausey Elementary School in West Springfield. Marketing Manager, Alexa Napolitan, took a few minutes to read one of her favorite books to the kids as a part of their Read Across America celebration. In total, Balise Lexus collected and delivered 489 books for the elementary school.
---
Balise Delivers Completely Refurbished Escalade to Heroic Couple from January Car Chase
---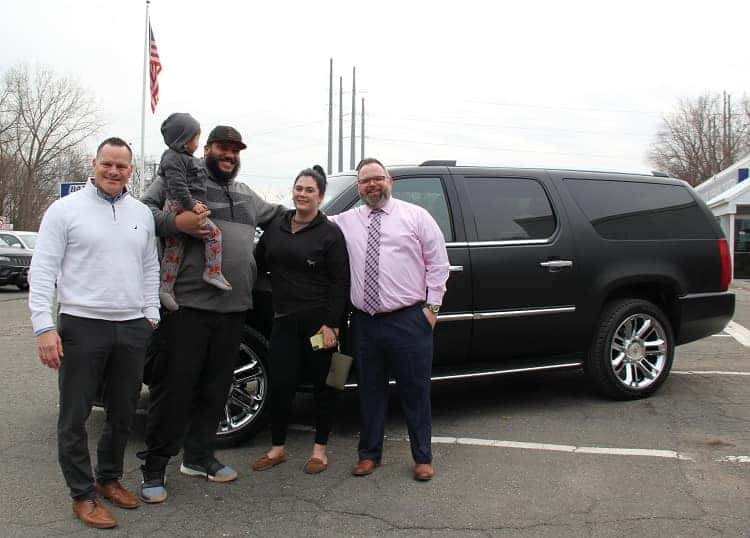 February 2020
WEST SPRINGFIELD, MA – On Tuesday, February 25th, Balise Collision Repair and several community donors delivered the repaired vehicle to the heroic couple who risked their lives to track down the suspected vehicle in the abduction of a young girl from Springfield back in January. It was because of their efforts that police were able to track down the young girl and return her safely. However, the couple's vehicle suffered damage in the process of chasing the suspect.
A full overhaul of the vehicle was performed, totaling between $20,000-$25,000 – including new front and rear bumper, undercarriage suspension components, 22" platinum wheels, and tires. All dents, dings, rust, and rotted areas were repaired and/or replaced, then the vehicle was given a full custom matte black paint job. Before delivery on Tuesday, Balise Collision completed a full lube and oil change, and the Balise Carwash gave the vehicle a full interior and exterior detail.
---
Hyannis Car Wash Customers Rally to Help Balise Raise More Than $8,000 for Cape Kid Meals
---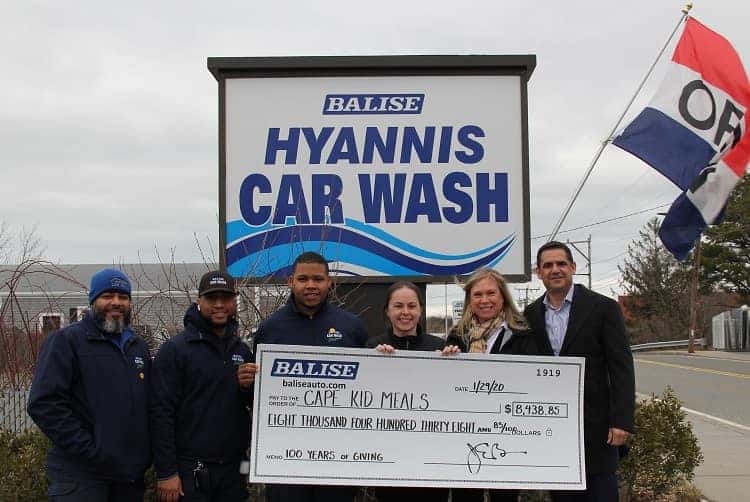 January 2020
HYANNIS, MA – Over the holiday, Balise Car Wash customers flooded to Balise Hyannis Car Wash to sign up for Unlimited Plans for themselves and family members knowing the first month would be donated to Cape Kid Meals, an organization that provides food packages to children prior to weekend school dismissal. The process is completely confidential and ensures that all children have healthy breakfast and lunch meals for the weekend. In total, $8,438.85 was raised for the cause!
---
100 Years of Giving Campaign Raises $13,341 for Square One in Springfield, MA
---
January 2020
SPRINGFIELD, MA – Representatives from Square One in Springfield joined Balise today for a check presentation to commemorate the #Balise100YearsofGiving initiative in which the two Western MA Balise Car Wash locations donated the first month of every new Unlimited plan sign up during the month of December to the organization. Over the course of 31 days, $13,341.51 was raised for the youth development program.
---
---
---
---
---
---
---